Amid the wariness of closed spaces and repeated use of equipment in times of Covid, two gyms in Law Garden and Science City road respectively have been training their clientele in the open
Gyms are back in business amid the rising cases of Covid-19. However, with people still wary of contracting the coronavirus affecting the numbers, some gym owners have found ways to assure their clientele by involving them in more outdoor activities than in the closed confines of the gym floor.
The government had issued guidelines for the opening of gyms with the need for maintaining social distancing and other precautions, but fitness enthusiasts are still to join gyms in large numbers.
Two gyms in the city have found a way to attract more people. A gym near Law Garden has been conducting outdoor activities in an open ground, while another gym in Science City area has made arrangements on the terrace of the complex where the gym is housed.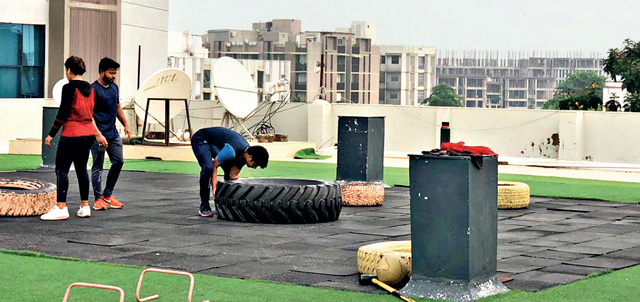 "It is very safe to exercise outdoors and the benefits are doubled. First, there will be no air conditioning outdoors, so one burns more calories and also it is safes at a time of pandemic," said Parvez Merchant(20), a student who has joined the gym in Law Garden.
"I joined the gymnasium on the first day it opened after the lockdown and the fear factor was gone with the start of outdoor activities. The main benefit is that you get fresh air apart from social distancing. So, when you exercise, it gives you a feeling of safety and a pleasant environment," said 63-year-old Sukeshi Shah.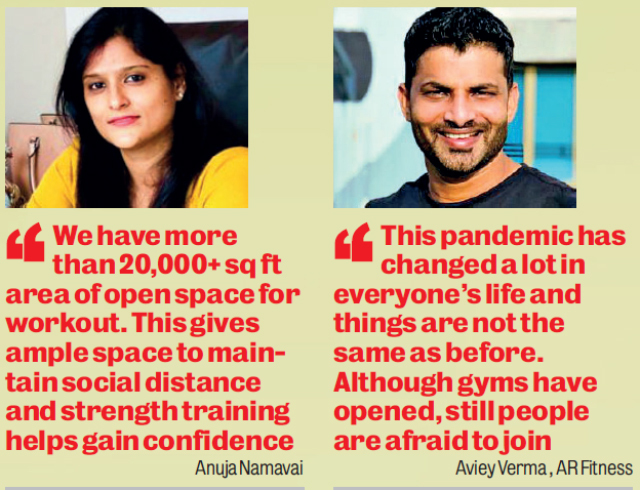 "We opened our gym soon after the government gave the go ahead. But people were afraid of the safety protocols. There was fear of using fitness equipment after others had used it, even though they were sanitised. In addition, we have more than 20,000+ sq ft area of open space for workout. This gives ample space to maintain social distance and strength training helps gain personal confidence," said Anuja Namavati, director of Fitt Wave gym.
Namavati said, "Every client is given a customised outdoor workout plan to meet their fitness goals. We also conduct special outdoor workout camps in batches for clients to up their endurance levels. Working out in groups increases enthusiasm and we also try and maintain more than 10 feet of distance between the clients. It's a natural anti-depressant and anti-anxiety mechanism. It challenges the body to push more."
The AR fitness gym at Science City has built a separate set up on the terrace for outdoor activities. "This pandemic has changed a lot in everyone's life and post lockdown the things are not the same as before. Although gyms have opened, still people are afraid to join," said Aviey Verma of AR Fitness.
According to Verma, "In this situation, I feel outdoor is the best option and many gyms have also opted for the same. Research says that being around nature releases your anxiety and depression, which also increases serotonin, a hormone that affects your mood and exercise itself produces endorphins, another feel-good hormone that boosts your mood and reduces pain. Apart from nature talks, outdoor workout also gives other physical benefits as well."